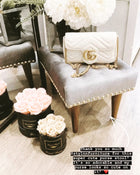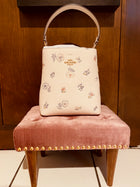 STYLNN Designer Purse Stool | STYLNN®

DIMENSIONS:

Length: 13 1/2"

Depth: 10 1/2"

Height: 9 1/2" 

Weight: 5 lbs

  

LEGS: -  Walnut Wood Leg

Free Rushed Shipping: Arrives in 5 Days After Production

Use of Product:

You have most likely placed your handbag on the ground when you have been out and when you get home there is no home for your handbag so you place it on your sofa or bed or counter not knowing how much bacteria it has collected during the routine of your daily life. Now you can give your handbag a home with our STYLNN Designer Purse Stool. 

              

CUSTOM OPTIONS

_________________________________

CONSTRUCTION

Frame - Frames are solid and built by professional carpenters. We Offer Our Lifetime Frame Warranty to prove it. Corner Blocks are used in every piece we create. This combination of craftsmanship and materials ensures STYLNN® is built to last, and will be an accessory you can rely on for years to come!

American Manufactured- Handcrafted and upholstered in Los Angeles, California. This one-of-a-kind piece is as unique and fashionable as you! Enjoy the luxury of having a stylish and functional piece that will enhance any room's look.

 

Made In The USA.

STYLNN Designer Purse Stool

- Handcrafted Nailheads 




- Walnut Wood Legs

 



Purse Stool
OMG....I love it! Great fabric, perfect size, easy assembly. I've been looking for one of these for years! THANK YOU!!!!!!! Happy Customer.
Perfect
So adorable and cute! I love it!!! Great price
Good products at competitive prices with really excellent service. The whole process from ordering, acknowledgement, delivery notification through to follow up after delivery, was extremely efficient and courteously followed through.